Dr. Jamie Sahouria, Pediatric Dentist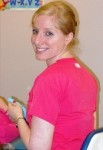 Dr. Jamie Sahouria is excited to be back in her hometown of Rohnert Park to provide quality oral healthcare to young patients of all ages. She is a proud alumnus of Hahn Elementary, Rohnert Park Junior High, and Rancho Cotate High School.
Dr. Sahouria attended and graduated with honors from University of the Pacific with a bachelor's of science degree in Biological Sciences. She then attended the University of the Pacific Arthur A. Dugoni School of Dentistry in San Francisco and earned a Doctorate of Dental Surgery. Following this she completed a one year program in Advanced Education in General Dentistry where she received training in caring for patients with complex needs. Dr. Jamie then attended the University of Texas Health Sciences Center at Houston. She earned a post-doctoral certificate in Pediatric Dentistry and a Master's of Science in Oral Biology. She is a board certified pediatric dentist with Diplomate status from the American Board of Pediatric Dentistry.
Dr. Jamie also has extensive pediatric trauma training after having served for two years as the on-call pediatric dentist for the emergency department of Memorial Hermann Children's Hospital in Houston. She is certified in both Basic Life Support and Pediatric Advanced Life Support.
Dr. Sahouria is involved in numerous dental organizations which promote the prevention, education, research and restoration of dental diseases. These include: the American Academy of Pediatric Dentists, American Dental Association, California Society of Pediatric Dentistry, California Dental Association, Redwood Empire Dental Society, and the Bay Area Pediatric Dental Study Club.
Dr. Sahouria is also a clinical professor at the University of the Pacific Arthur A. Dugoni School of Dentistry Pediatric Clinic. She also serves as a board member for the Dugoni Dental Alumni Association.
Dr. Jamie loves kids and she is excited about the privilege of getting to know and work with the children and teens in the area where she grew up. She is proud of her team and their commitment to providing the highest quality of care and services.
---
Dr. Raymund (Ray) Rebong, Orthodontist
Dr. Raymund Rebong grew up in Daly City, California and is an alumnus of the University of San Francisco, where he graduated summa cum laude with a degree in Biology.
Dr. Ray completed his dental education at the University of California Los Angeles. During his time at UCLA, Dr. Ray participated in numerous dental outreach events, taught dentistry courses to teenagers interested in the dental field, and traveled to China to provide dental care to children living in an orphanage. Through his experiences at UCLA, Dr. Ray discovered his love for orthodontics, a specialty which allows him to use his skills to help patients achieve their perfect smiles!
Dr. Ray completed the Orthodontics and Oral Facial Genetics Residency at Indiana University where he treated a diverse population of children, teens, and adults. Dr. Ray utilizes the best and most advanced techniques in the orthodontic field, including phase therapy, Invisalign and clear aligners, clear (ceramic) brackets, mini-screw implants, orthognathic surgery, digital scanning, and 3D imaging.
Dr. Ray is happy to return to Northern California and serve Rohnert Park, Petaluma, Santa Rosa, Cotati, Penngrove, Sebastopol and neighboring  Sonoma County communities. Dr. Ray is an avid Warriors fan and enjoys many outdoor activities, including hiking, fishing, and playing basketball and tennis. He continues to be involved in the community through volunteering, lecturing, and planning outreach events. Most of all, Dr. Ray is excited to devote his knowledge and energy into helping your family achieve happy, healthy smiles.
---
Dr. Paul Sauget, Orthodontist
Dr. Paul Sauget (Dr. Paul), originally from San Leandro, California, received his Bachelor's degree in Biomedical Sciences from Marquette University, where he played NCAA Division I tennis and earned a 4.0 GPA in his major. He moved on to San Francisco where he earned his DDS and graduated with honors from the University of the Pacific School of Dentistry. Dr. Paul went on to become a U.S. Navy and Marine Corps dentist, where he was stationed at 29 Palms Air Ground Combat Center and Naval Air Station Lemoore. During his 4-year service, Dr. Paul became a Fleet Marine Force Warfare Officer. He was in charge of the Ops Side Dental Clinic at NAS Lemoore and periodically the interim department head for Navy Branch Dental Clinic, Monterey CA.
After serving his country, Dr. Paul earned his certificate in Orthodontics and his Masters of Science in Dentistry degree at Indiana University. As an orthodontic resident, one of Dr. Paul's patient cases was selected by the orthodontics department to represent Indiana University at the 2010 American Association of Orthodontists National Conference in Washington, D.C. That same year, Dr. Paul joined his older brother's orthodontic office in Guam where he treated several orthognathic surgery cases, cleft lip/palate for the UCSF Hillblom Foundation, and countless military families and residents of the U.S. territory in private practice. He introduced cone beam CT, functional appliances, and laser technology to that office. In return, he gained valuable clinical experience in the western Pacific as patients were coming from many areas of the United States and other countries with a variety of orthodontic techniques and systems.
Now that Dr. Paul has returned home to California and is practicing orthodontics in Beverly Hills with Aesthetic Orthodontics, he is also extremely excited to join his former dental school classmate, Dr. Jamie Sahouria, and be a part of the Sahouria Pediatric Dentistry team. He is also pursuing his second passion as an upper level student at the Beverly Hills Playhouse acting school. Dr. Sauget has several years of film, television commercial, and theatre experience, which he would do alongside his dental education and career. His hobbies include: Xterra triathlon (which he raced in the 2012 Xterra World Championships), mountain biking (coming in 1st place in his age group at the 2012 Tour de Tinian 100km mountain bike race), playing guitar for different rock bands, auto racing/car shows, scuba diving, hiking, camping (Eagle Scout), and spending time with friends, family, and his German shepherd dog.
---
The Rest of the Team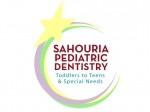 Both our front office team and our back office team have received special training in working with our special patient population. Our team members are registered dental assistants and hygienists; they are licensed with the state of California. With every interaction we strive to keep in mind that attached to the mouth is a young person who deserves our utmost attention. We are excited to meet you and invite you into our office!