Tooth Friendly Easter Baskets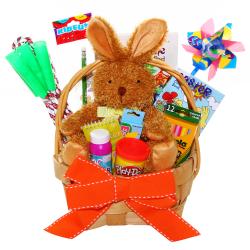 Chocolate bunnies, jelly beans, and Cadbury Eggs are the traditional part of Easter Basket fun. The National Confectioners Association says that Americans spend more than $1.5 billion on Easter candy each year, second only to Halloween candy! This is the equivalent of 25 pounds per candy per person! However, here at Sahouria Pediatric Dentistry, we have it on good authority from the Easter Bunny that there are many fun items you can include that are not filled with sugar. We encourage parents and caregivers to become educated and monitor the amount of candy and sugar your children consume. Here is an alliterative list we have come up with. These items can be bought on a budget as well.

• Play Dough
• Bubbles
• Animal Floss Sticks
• Glitter Pens
• Erasers for school
• Stickers –scratch n sniff of course
• Jump Rope
• Marbles
• Jacks
• Story books
• Coloring books
• Crayons or Markers
• Gift cards for music or the movies
• Easter Eggs (plastic or foam)
• Easter Craft Sheet (available online)
• New toothbrush

Now if Easter candy is a tradition you can not seem to escape, try to get xylitol candies as the xylitol won't be metabolized by the bacteria that cause cavities or "sugar bugs". Brush and flossing and chewing sugar-free gum will help to prevent cavities as well! We hope your kiddos enjoy their tooth friendly Easter baskets this year!